Any sufficiently advanced muscle sensor is indistinguishable from myoelectric magic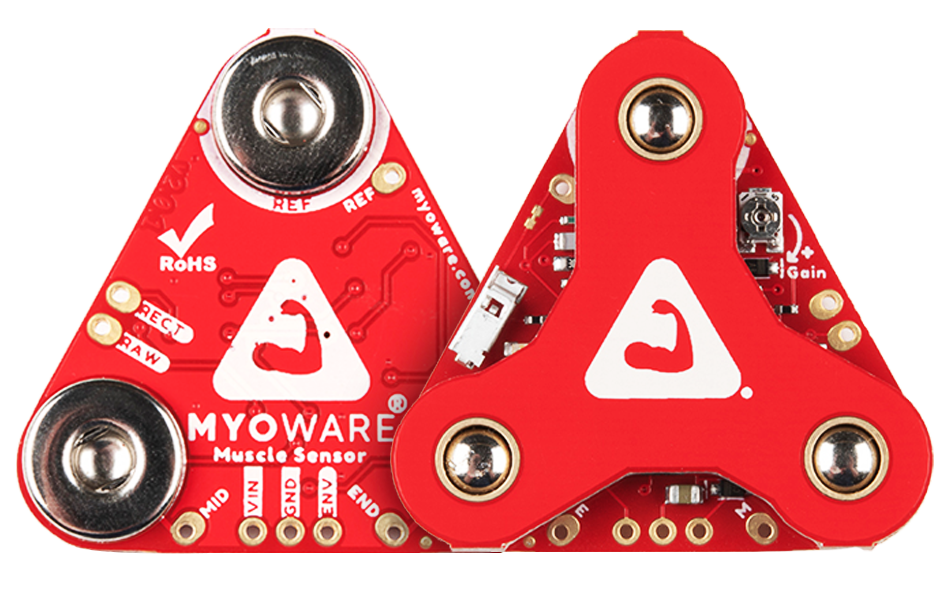 Myoware 2.0 Muscle Sensor
Redesigned so setup is a snap!
The MYOWARE 2.0 Muscle Sensor has been redesigned from the ground up with a new easy-to-use, compact design and upgraded with the latest and greatest chipset improving sensor performance and reliability.
Setup is a snap with the new innovative snap connector system which eliminates the need to solder connections for the MYOWARE 2.0 Ecosystem.
Topside connectors link to the power and the EMG envelope output of the sensor; bottom side link to the input electrodes.
Shield Stud Connectors: Solderless shield connection – The shield studs provide power and the envelope output to the new MYOWARE 2.0 shields.
Electrode Pad Connectors: No electrode cables required – Attach all three electrode pads (END, MID, REF) directly to these socket connectors.
Adjustable gain: Is the output signal too weak or strong? Adjust the gain of the EMG Envelope output. Turn clockwise to increase; counterclockwise to decrease.
Envelope Output: Muscle power – The primary output of the sensor outputs the magnitude of electrical activity of the muscle.
Raw Output: The EMG signal that's only amplified and filtered; for advanced users who want to do their own post-processing.
Rectified Output: New to MYOWARE 2.0 – You can now capture raw output after fullwave rectification.
The harder you flex, the higher the output voltage
MYOWARE 2.0 Muscle Sensor measures muscle activity through the electric potential of the muscle, commonly referred to as surface electromyography (EMG or sEMG for short). When your brain tells your muscle to flex, it sends an electrical signal to your muscle to start recruiting motor units (the bundles of muscle fibers that generate the force behind your muscles).
The harder you flex, the more motor units are recruited to generate greater muscle force. The greater the number of motor units, the more the electrical activity of your muscle increases. The MYOWARE 2.0 Muscle Sensor will analyze this electrical activity and output a signal that represents how hard the muscle is being flexed.
Get the MYOWARE 2.0 Muscle Sensor
We've partnered with the electronics gurus at SparkFun Electronics to manufacture and handle the sale of the entire MYOWARE 2.0 Ecosystem.
Designed by our myoelectric experts, built by SparkFun.
Buy Now »
Expand the realm of possibility